Hairsticks and Earrings
Turn of the Century handmade, wooden hairsticks and earrings are made of the finest hardwoods.
Hairsticks: Turn of the Century hairsticks have graced the hair of many a lady over the past thirty years. Each hairstick is individually freehand turned on a lathe by William Schmidt. The design style has evolved over several years to the unique "signature" style it is today.

All hairsticks are thin and light and, when used properly, have no danger of falling out. They are about 6 inches long.
Notes on care of hairsticks.
When using a hairstick to hold up a bun, only one is needed, a second is strictly decorative. Hair must be a little longer than shoulder length for the hairsticks to be effective. Damp hair holds better. When learning to use a hairstick, or if your hair is on the short side, using a hair tie to support the pony tail can be helpful.
Paired Hairsticks: For those who prefer two hairsticks, we suggest two of the same wood, but different design, or for a dollar more, a matched set with the same design.

To pick specific hairsticks, go to the Hairstick Gallery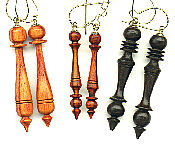 Earrings: Subtle dangles have added accent to many a lady's ear. They measure 3/16 to 1/4 inch thick, 1-1/4 to 1-3/4 inches long; the wires are hypoallergenic stainless steel.
To pick specific pairs of earrings, go to the Earring Gallery,
PRICES
Individual hairsticks: $8.00 each
Matched hairstick pairs: $17.00 per pair

Individual long hairsticks: $8.50 each
Matched long hairstick pairs: $18.00 per pair

Earrings: $8.00 per pair
Unless picking specific items from the gallery pages, please specify preference of dark or light colors.

SHIPPING AND HANDLING: (Priority mail - domestic) $7.00 per entire Turn of the Century order
Orders shipped within 1-2 days of receipt of payment.
Please send your complete mailing address and a day or night phone or e-mail, and...
Payment by check or money order to:
Turn of the Century
1676 Millsboro Road
Mansfield, OH 44906-3374
Phone 419/529-8876
-- For those using Paypal: Use the Paypal click logo at the bottom of the TC home page.
(Paypal ID: -- Bill@Turn-of-the-Century.com -- should fill in automatically.)
For more information on ordering, shipping and payment, see the Ordering Info Page

To e-mail us: Bill@Turn-of-the-Century.com
(If you have gmail, BE SURE to include your phone. Gmail throws my emails into your "spam" folder.)

Crochet Hooks * Knitting Needles * Sizing Chart
Rug Hooks * Embroidery Tools * Odds 'n' Ends
Hairsticks & Earrings * Writing Instruments
Links Page
"Who We Are" Page
Turn of the Century Home Page
Site Map and List of Gallery Pages


All Turn of the Century designs &copy copyright William Schmidt, Turn of the Century